Join Ifremer for your Post-Doc!
Ifremer offers funding for post-doctoral research positions.
For the year 2024, Ifremer offers 6 post-doctoral contracts, for a period of 36 months, to researchers proposing innovative projects that are consistent with the three main themes below: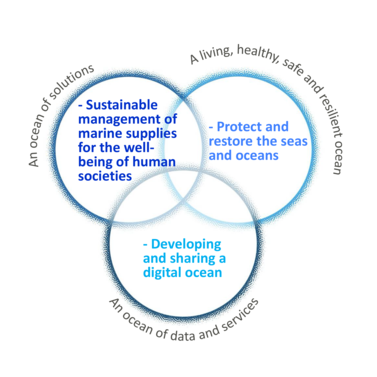 The eligibility conditions are presented below
Candidates must not have been previously employed as doctoral or post-doctoral researcher in an Ifremer research unit nor in a joint research unit involving Ifremer. (These joint research units are the following: MARBEC, LEMAR, LOPS, AMURE, BEEP, LEEISA, IHPE, ENTROPIE, EIO, GEO-OCEAN, DECOD).
This call is open to applicants of any nationality who already have a research experience (PhD or post doctoral contracts) outside mainland France (i.e. a research experience in French overseas is eligible).
Thesis accreditation must have been obtained less than three years ago (from the starting date of the future post-doctoral contract).
The required documents to submit an application are
The 
For your convenience, a 
 is provided to summarize the documents that are expected in addition to the application form
Application forms must be sent in electronic format to the Scientific Direction of Ifremer (anais.menard@ifremer.fr) by Monday, January 8, 2024, at the latest.. The forms must be typed and sent as one single PDF file by email. Contracts can start between April and November 2024 in an Ifremer research unit. We recommend contacting the Ifremer research unit most relevant to your proposal prior to submission. Incomplete applications, applications submitted after the deadline or those not meeting the eligibility criteria will be disregarded.
The postdoctoral fellowship is only allocated for the candidate's salary.
The financial requirements linked to the research proposition must be taken from the Departments/Units/Laboratory budget.
The gross salary is around 34200 euros/year.
The starting date of the post-doctoral contract will be determined in concertation with the head of research unit and the human resources department of Ifremer.
For more information, please contact anais.menard@ifremer.fr.
Documents may be downloaded below: